Sale! Bodhran Carrying Cases (Bags)
As drum professionals know, a case is well worth its cost to protect your investment in the instrument, especially when carrying it to gigs, workshops or the nearest jam session.
Carrying case for 18" bodhrans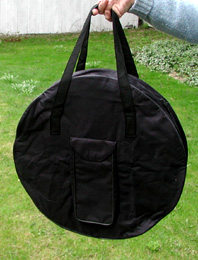 BC4. Economy 18" black nylon fabric case. Zipper goes almost all around. Side pocket. Depth of rim edge: 4 3/4". The fabric is of good quality, but there is no padding. $11 Sale! $8

Carrying case for 16" bodhrans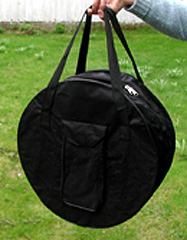 BC11. 16 x 8" bodhran case, for bodhrans with a deep rim. Economy model, black nylon fabric, side pocket, long zipper, handles (no padding). $15. Sale! $12
Carrying cases for 14 - 15" bodhrans
BC10A. We have a couple of these cases that we call 15" cases. They aren't quite big enough for a 16" bodhran; they would work well for a 15" one, however. These take a bodhran rim depth of up to 4 1/2". Economy model, black nylon fabric, side pocket, long zipper, handles (no padding). Sale! $8
Back to Irish Musical Instruments page

You are currently on the Bodhran Carrying Cases page of the web site www.harpanddragon.com
There are about a hundred pages on this web site; click on the Home Page link
at left to see an outline of this entire site.
Notice:
The Harp and Dragon business is for sale.
We invite inquiries about buying up our inventory.
Please click here to inquire.
We will remain in business for the foreseeable future until we announce otherwise.
If you do not receive a reply from us within a day or so after sending in an order, or after emailing a question, please contact us again, as our reply may have been thrown in your spam bin or may have returned to us. Exceptions: weekends or when we note on our front page that we are closed for any reason.