Practice Pipes
These pipes can be practiced anywhere because they aren't loud like standard pipes. They are especially useful for bagpipers who want to do more practice on their highland pipes, but who have problems finding a place to play without disturbing the people around them.
Because these have a practice chanter built in (you can remove the blowstick and chanter and put them together to make a practice chanter), total beginners can start with these. After you gain proficiency on the practice chanter, you can then play these as a first set of pipes. They are easy to play because of the plastic chanter and drone reeds.


Practice Pipes Designed and Made in Scotland by Bagpipes Galore!
We have one set of these left.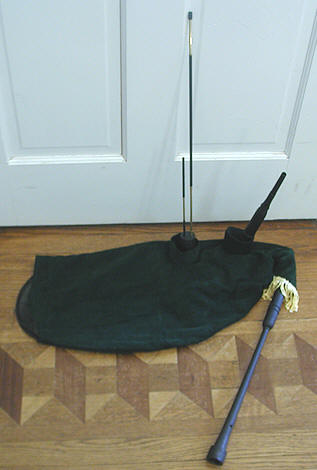 PP1. These pipes include: synthetic bag, corduroy bag cover, plastic blowstick, choice of plastic long or standard chanter, two small tunable drones (long and short), all synthetic reeds, zipper nylon carrying case. These have a practice chanter built in; the blowpipe and chanter come off and make a practice chanter when they are put together. This means that you get both a practice chanter and a set of practice pipes out of them.
The current stock of these have a bag cover made of dark green corduroy fabric with yellow fringe around the chanter hole as shown at left. Weight: just under two pounds.
Price:
$168 with standard chanter
or
$199 with long chanter (shown at left)
The long chanter is shaped like a highland pipes chanter.
Extra chanter reeds (made by same maker) for practice pipes: $8
Note: you can play these pipes with any make of practice chanter reed. However, this reed is a little louder, so that the chanter can be better heard over the drones.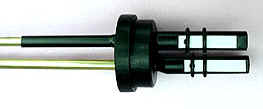 At left we show the drone reeds for these practice pipes. They are thin plastic tongues attached to square plastic rods by means of tiny rubber bands. The drone pipes pass through a rubber plug; this plug is taped in place in the pipes. Please don't take this plug out to look at the drone reeds; that's why we show you this picture! There are a lot of reeds that have been wrecked by people bending the reed back when putting the plug back in. NOTE: You cannot adjust the drones tuning or the air input with these tongues.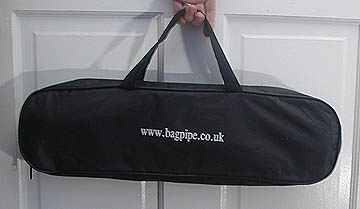 At left we show the zippered nylon carrying case included with these pipes.
From a new owner of these pipes:
"The Practice Pipes are great fun. I was able to play them instantly on opening the package. Much better quality than I expected."
Notice:
The Harp and Dragon business is for sale.
We invite inquiries about buying up our inventory.
Please click here to inquire.
We will remain in business for the foreseeable future until we announce otherwise.

You are on the Practice Pipes page of the web site of The Harp and Dragon at www.harpanddragon.com
There are over a hundred pages on this web site; click on the Home Page link
at left to see an outline of this entire site.

If you do not receive a reply from us within a day or so after sending in an order, or after emailing a question, please contact us again, as our reply may have been thrown in your spam bin or may have returned to us. Exceptions: weekends or when we note on our front page that we are closed for any reason.