Scottish Jewelry
Traditional Scottish motifs to wear with pride.
In addition to the Scottish pieces on this page, we also have a page of kiltpins. These can be worn on lapels or with scarves, as well as on a kilt.
Please check the size of each piece carefully against a ruler before ordering. We give measurements of all jewelry pieces on this site so that you will know their size in advance; this will save disappointment, returning pieces, etc.
Stone color: although purple is very popular with modern Scots, the most traditional Scottish stone is the smoky quartz or topaz. This is because the gemstones that were mined in the Cairngorm mountains of Scotland in the old days, called cairngorms, were smoky quartz (and possibly also topaz -- there is some variation of opinion on this!). These come in various shades of smoky yellow.

Three-Spiral Celtic Pendant

SJ1. This three-spiral pendant is very nice, a fairly thick piece of sterling silver. The round pendant is 7/8" across, on 20" sterling snake chain. Made in Scotland. $33
Thistle Jewelry
The thistle is a common symbol of the Scots, and appears in a great deal of their jewelry. The thistle became the national emblem of Scotland after the Battle of Largs in 1263 AD. It is said that a Norse attack force decided on a stealthy night attack; however, their leader trod on a thistle and his yell alerted the Scots, thus saving Scotland.
Sterling Thistle Pendant and Earrings

SJ2A. Sterling thistle pendant (thistle is 7/16" high, shown oversize) hangs on fine 18" chain. $19

SJ2B. Tiny version of thistle in SJ2A as stud earrings; these are just over 1/4" high (shown oversize). $8
Oval Costume Thistle Pins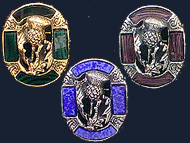 The oval thistle pins by Miracle brand shown at left are available in three colors.
1 1/2" high, costume metal, faux stones.
SJ5A. Malachite, antiqued gold. $23
SJ5B. Lapis lazuli, antiqued silver. $23
SJ5C. Striped amethyst, antiqued silver. $23
Crystal Thistle Pendants and Earrings

The high-quality crystal pieces shown at left and below are made in Scotland. On these, the crystal is clear and does not change color; the color of the inset thistle in these pieces is called "heliotrope" by the maker, and is a mixture of blue, purple and rose. Sizes of crystal pieces do not include hanging ring.
SJ6A. Medium pendant on 20" sterling curb chain that has some weight. Oval pendant piece is 1 3/8" long. $38


SJ6B. Small pendant on fine 20" sterling curb chain. Pendant oval is 11/16" long. $27
SJ6C. Drop stud earrings hang from sterling findings. Earring ovals are the same size (11/16") as the SJ6B small pendant, and have the same scalloped edges. $47 We have one pair of these left.

SJ6D. Small delicate drop stud earrings (shown at left) have plain edges, but the same thistle design as the three pieces above. Sterling findings. The length of the oval is 1/2". $28
Oval Thistle Pins


This attractive oval thistle pin mixes the traditional Scottish thistle motif with a modern look. 1 3/4" high. Available in two color combinations:
SJ7A. Goldtone with faux topaz. $27
SJ7B. Silvertone with choice of faux pale amethyst (shown) or deep purple amethyst stone. $27
Pewter Thistle Necklace


SJ8. Pewter thistle necklace. The oval pendant is 1" long, not counting its hanging ring or the jump ring. Chain: 18" long. $21 We have one of these left.


Round Celtic Brooch

SJ19. This beautiful handcrafted brooch of solid sterling has Celtic knots all around the faux dark topaz stone in the middle. Seen from the side, the stone sits high, held by a crown. Size: 1 5/8" across. Presented in a hard blue box lined in black satin and velvet. Made in East Kilbride, Scotland. $92.

Scottish Shoulder Brooches/Cloak Pins
This large four-thistle pin is ideal on a tartan sash at your shoulder, or as a cloak pin. A Miracle brand piece. It is two inches across with a two-inch pin on the back; this piece can be worn as shown or turned with the thistles pointing N, S, E and W. This is a raised-design pin, with a rise of about 1/2 inch. Large faux stone. It is currently available as:

SJ20A. Antiqued gold with amethyst. $26
SJ20B. Antiqued silver with amethyst (shown below). We have a couple like the one at left, where the purple shows more deeply because the stones has a backing. The one to its right below shows the fabric of your clothing through the purple stone. $26

Great Highland Shoulder Brooch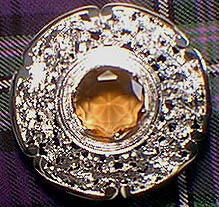 SJ21. The great highland brooch shown at left will shine brightly at the shoulder of any kilted Scot. A Miracle piece. The pierced thistle design is executed in heavy silverplate; the large cut stone is faux. The 3" fastener on the back is in the style of a huge safety pin. Overall diameter is 3 3/4"; the stone is 1 1/4" across. This is a 3-D piece; it rises an inch from the edges to the top of the stone (not counting the pin). We have this with only the smoky topaz stone shown. $60 This is a good price; if we got these in now they could cost a lot more. We have just one of these left.


Scottish Thistle Shawl Brooches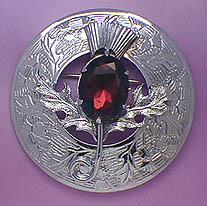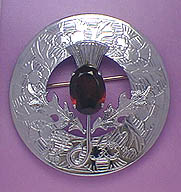 These large thistle brooches are great for pinning a shawl or cloak! The silver-colored circle is stamped with a thistle design; the large center thistle is raised, with a faux amethyst stone.
SJ22A. Large brooch, 2 3/4" in diameter. $31
SJ22B. Smaller brooch, 2 3/8" in diameter. $28
SJ23. Rampant Scottish Lion brooch by Black Isle of Scotland. This is a fine depiction of the symbol of Scotland. 2 3/4" high. Polished pewter. Made in Scotland. Boxed. $36
Luckenbooth Jewelry
The luckenbooth, named after a place in Scotland, is a heart (or double heart) with a Queen Mary crown on top; the design dates from her time. Heart pieces like this have been romantic gifts in Scotland since the 1700's. Luckenbooth jewelry can have many variations.

SJ32. This luckenbooth (Queen Mary) pin is a silver-colored costume jewelry piece with faux amethyst stones. 1 3/8" high x 1" wide. $26
The Heather Gem Collection
Made in Scotland, Heather Gem pieces each have an unusual "gem" which is made of real heather stems that have been dried, dyed with natural dyes, pressed tightly under enormous pressure, cut and hand lacquered. Every heather gem has different coloring and design; no two are alike. Colors are a mixture of purple, red, green, yellow and blue; the ones shown below are typical. If you request a couple of colors you would prefer, we'll do our best for you; however, we regret that we cannot guarantee what color you will get.
We currently have Heather Gem jewelry at the link below, but none in the thistle design to go on this page. We mention this jewelry here because it is a well-known Scottish-made brand.
Heather Gem pieces in Celtic designs are on our page of sterling jewelry.
Sterling Bagpipe Necklaces and Earrings

Solid sterling bagpipe necklace in two sizes, plus dangling and stud earrings.
SJ61A. Necklace. Actual pipes are 5/8" high. These hang on a fine 20" sterling chain. $19
SJ61B. Matching earrings hang from studs, same size as SJ61A. $24
SJ61C. Necklace. Pipes are 1/2" high, hang on a fine 20" chain. $16
SJ61D. Tiny stud bagpipes are 3/8" high. $8
SJ62. Bagpipe necklace. This is a very nice solid sterling rendition of bagpipes. Note that the size of the oval frame around the bagpipes is 1 1/2" high, not including the bail (ring). The sterling curb chain is 24" long and is of medium weight. $41
Scottish Drummer Necklace

SJ72. Drum necklace. Drummers in pipe bands sometimes complain that the pipers get all the attention, and that there is nothing produced for drummers. Solid sterling drum is 5/16" high on a fine 20" sterling chain. $16


Grouse Claw Pins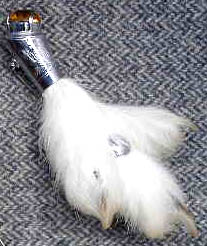 These grouse claws are set in a silver-colored holder with a faux sparkling glass stone set into the end, pin on back. Overall length is about 3 1/2" (these are real claws, and the size may vary slightly). These come from grouse that are farmed for their meat in Scotland.
SJ73A. Engraved silver-colored holder, amethyst stone. $20
SJ73B. Engraved silver-colored holder, deep orange-red stone. $20
SJ73C. Plain silver-colored holder, deep orange-red stone. $20
Other Scottish Pieces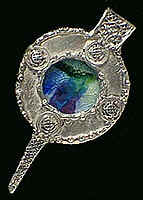 Sale! SJ74. This unique adaptation of a sword-and-shield brooch is hand made in Scotland of pewter with a ceramic insert. The brooch is 3" long overall with a 1 3/4" pin on the back. Please note the ceramic insert of each pin will be slightly different in color and design. Was $32, now $26. We have two of these left.

SJ75A. Necklace (18" silver-colored chain). Faux striped amethyst stone. $10
SJ75B. Matching earrings. These hang from studs. $14
Scottish Buttons
Silver-plated buttons for Scottish jackets. These have a shank on the back for sewing on. Made in Scotland.
SJ76A. Small square. Tiny rampant lion in middle. 7/16" on each side. Can be sewn at any angle. $3 each, $2.50 ea for 6 or more.
SJ76B. Medium square. Tiny rampant lion in middle. 9/16" on each side. Can be sewn at any angle. $3 each, $2.50 ea for 6 or more.
SJ76C. Large square. Tiny rampant lion in middle. 11/16" on each side. Can be sewn at any angle. $4 each, $3.50 ea for 6 or more.


SJ76D. Diamond-shaped thistle design with slightly rounded tips. This button is a copy of the buttons that were on the vest of a young Scottish girl many years ago. 3/4" x 5/8". $3 each, $2.50 ea for 6 or more.

SJ76E. Large diamond-shaped thistle design. 7/8" from top to bottom tips, and 11/16" across. $3 ea, or $2.50 ea for 6 or more.
SJ76F. Small diamond-shaped thistle design. 11/16" from top to bottom, and 9/16" across. $3 ea, or $2.50 ea for 6 or more.
Celtic Knot Drop Earrings

SJ78. These Celtic knot drop earrings with amethyst crystal stones in silvertone setting are really elegant! The actual earring is just over 1" long, not counting the ring on top. $22
Sale! Pin, Earrings and Necklace in Blue or Brown Porcelain
at half price


SJ79A: Four-knot pins at left are 1 1/4" high. Made in Scotland of handcolored porcelain. Choice of antiqued brown or antiqued blue (shown left). Were $24, now $12


SJ79B: Two-knot pins at left are 1 1/4" high. Made in Scotland of handcolored porcelain. Choice of antiqued brown or antiqued blue. Were $24, now $12

SJ79C. Celtic knot earrings match pins above. 3/4" from corner to corner. Antiqued blue only (shown left). Were $20, now $10

SJ79D. Necklace has same square piece as earring on 18" chain. Antiqued blue only, on silver chain. Was $16, now $8
Celtic Hearts and Knots in Striped Amethyst
The charming Celtic knot necklace and earrings below are set with romantic heart-shaped stones.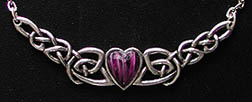 SJ80A. Heart necklace. Antiqued silver with faux amethyst stone. Adjustable chain makes this necklace 20 -23" around. (Necklace can be shortened if you wish to wear it as a choker.) $23



SJ80B. Heart stud earrings to match, in antiqued silver with faux amethyst stones. 1 1/2" long overall. $19. We have one pair of these left.

Tree-of-Life Pin

SJ81. The Tree of Life was a common symbol of the ancient Christian Celts, and appeared in many forms in their art from the era of the Book of Kells on; however, it goes back beyond the Celts to the Garden of Eden. The pin at left is an interesting variation on the tree-of-life theme and can be worn with the fruit growing in any direction. Faux cabochon stones in moonstone amethyst, antiqued silvertone setting. Size: 1 3/4" overall. $20
Celtic Knot Pendants

SJ82. Drop Celtic knot pendant set with faux amethyst cabouchon stones in antiqued silver-colored setting. Pendant is 1 1/4" long.
18" silver-colored chain. $9


You are on the Scottish Jewelry page of the web site www.harpanddragon.com
There are over a hundred pages on this web site; click on the Home Page link
at left to see an outline of this entire site.
If you do not receive a reply from us within a day or so after sending in an order, or after emailing a question, please contact us again, as our reply may have been thrown in your spam bin or may have returned to us. Exceptions: weekends or when we note on our front page that we are closed for any reason.
NA