Uilleann Bagpipes
Also called "Irish Pipes" or "Union Pipes"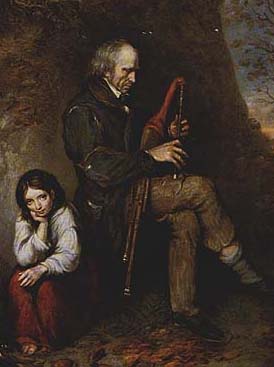 Photo: Ancient uilleann piper. Photographic credit: National Gallery of Ireland.
The uilleann (pronounced ill'-in) pipes are Irish bagpipes. Those addicted to the uilleann pipes describe them as beautiful, complex, ancient, mysterious, and even a hive of honeyed sound.
The most obvious difference between them and the great Highland bagpipes of Scotland is that the uilleann pipes are not blown with the mouth; air is pumped into the bag by means of a bellows attached to the human elbow. Also, uilleann pipes are not as loud. However, there are other special features of uilleann pipes.
Although uilleann pipes have been around since the early 1600's, their revival in modern times began in the 1960's with a musical group called The Chieftains. More recently, the uilleann pipes have been widely seen in the Riverdance band, and this has excited a great deal of interest.
It should be understood that uilleann pipes are much more difficult to play than standard Scottish pipes, and they are also a great deal more expensive.
There are three parts to a full set of uilleann pipes:
1. Bellows, bag and chanter, sometimes called a starter or practice set. The chanter has a range of two full octaves, unlike Scottish pipes which have only nine notes; it has a double reed. The uilleann chanter plays a standard two-octave diatonic scale in key of D or G. Sometimes this basic set is used to play melody, in the same way that a clarinet or oboe might be used. You start playing this starter set right at the beginning; you do not traditionally play any kind of practice chanter first, the way players of standard highland pipes do, although more recently an uilleann practice chanter has been developed (see below). The fingering is not the same as for standard pipes.
2. The drones. There are three drones: tenor, baritone and bass, each with a single reed. You should play the starter set for about a year before you add drones.
3. The regulators. There are three regulators: tenor, baritone and bass, each with a double reed. Regulators, which are not found on Scottish pipes at all, are pipes with keys that play notes in accompaniment to the chanter; a full set of regulators has thirteen keyed notes. The keys are played by leaning your wrist on them. The regulators are the hardest part of uilleann pipes; if you are a beginner, you can put off buying the regulators for a long time (and these are the most expensive part of the set). Indeed, many players never get to adding the regulators at all.
This means that a full set of uilleann pipes plays the tune, has drones playing, and also accompanies itself with other notes on the regulators all at the same time. The piper therefore has to pump the bellows with his elbow while he plays the chanter with both hands and leans his wrist on the keys of the regulators. To the uninitiated, it must seem that an uilleann piper has to have three hands to do it all, or preferably four; the good players make this all look very easy.
If You Decide to Purchase Uilleann Pipes
These pipes are not easy for beginners to deal with by themselves; you may have difficulties with reeds or other parts of these sets. Large amounts of both patience and persistence are needed, as well as a lot of practice. You may need help from an experienced uilleann player to play them. These pipes do not supply instant gratification! Why do we tell you this? Because, of all the instruments that we sell, uilleann pipes cause the most difficulties. In their native Ireland, uilleann pipes are never played by isolated beginners; there is always a teacher. We suggest you think hard about this before ordering these pipes, as they require a commitment of time and effort on your part.
Uilleann Pipes by Roosebeck (Mid-East
These uilleann pipes are a well-made instrument .
Uilleann Chanter With Mouth Blowing Attachment

UIL1A. Rosewood uilleann practice chanter. This consists of a regular rosewood uilleann chanter plus additional rosewood/plastic tube that attaches for mouth blowing. If you buy the starter set UL2 below, you remove the rosewood/tubing piece when you put this chanter onto the starter set. The length of the chanter pieces is 14 3/4", including the wound joint. The extra piece that attaches for blowing, including rubber tube, is an additional 14 1/2" long. Comes with plastic reed. This rosewood chanter is lighter in weight than the ebony chanter below. $67. Free shipping in the lower 48 states.
Ebony Uilleann Chanter With Brass Keys

UIL1B. Ebony uilleann chanter with three keys. This does not operate as a chanter on its own; it works only when attached to the uilleann starter set UL2. 14 1/2" long overall. Comes with plastic reed. Our price $221. Free shipping in the lower 48 states.
Uilleann Starter Set Without Chanter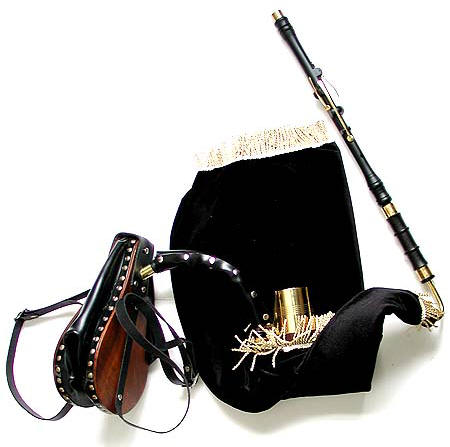 UIL2. Uilleann starter set has heavy-duty synthetic bag and wood/synthetic bellows. Includes a built-in brass-and-rosewood cup for attaching drones later on (there is a plug in the cup to prevent air from escaping). Our price $323. Free shipping in the lower 48 states.
The chanter is not included with this starter set; to play it, you need to add one of the chanters UL1A or UL1B listed above.
The uilleann starter set is shown at left with the ebony practice chanter.
Uilleann Drones and Valve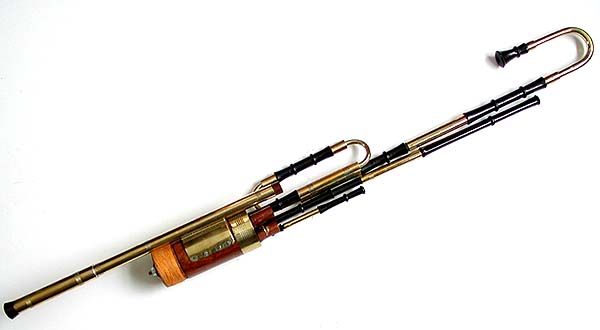 UIL3. These ebony-and-brass drones along with the brass-and-rosewood valve are what you add to the starter set to make a half set of uilleann pipes. $510. Free shipping in the lower 48 states.
See next photo below for what a half set of uilleann looks like.
Uilleann Half Set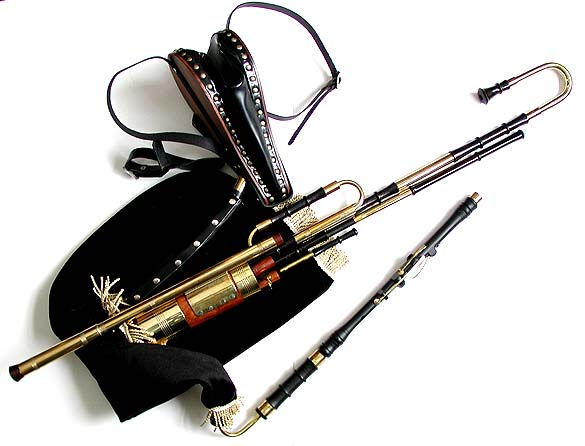 UIL4. Uilleann half set. This is composed of three items:
1. Chanter: choice of UL1A @ $67 or UL1B @ $221
2. Starter set: UL2 @ $323
3. Drones/valve set (UL3 @ $510)
The uilleann half set at left is shown with the ebony practice chanter.
Free shipping in the lower 48 states.
Uilleann Regulator Set

UIL5. Set of three regulators only. These are made of ebony and brass as shown at left. You add the regulators to a half set to make a full set. $1105. Free shipping in the lower 48 states.
See photo below that shows a full uilleann set.
Full Uilleann Set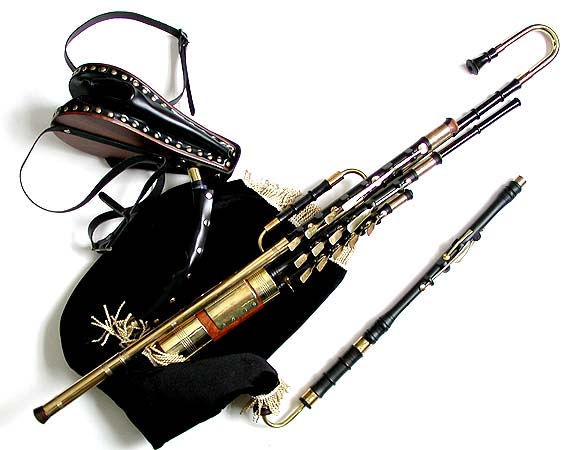 UIL6. A full set of uilleann consists of:
1. Chanter (UL1A or UL1B)
2. Starter set (UL2)
3. Drones and valve (UL3)
4. Regulators (UL4)
Our price for a full uilleann set with ebony chanter is $2125. Free shipping in the lower 48 states.
Uilleann Part Available Separately
UIl20. Chanter connector (U-shaped piece that attaches bag to chanter). Brass and ebony. $43 In stock.
Uilleann Reeds
for uilleann chanter, uilleann drones and uilleann regulators

UL30A. Uilleann chanter reed (plastic). Thread wound. By Roosebeck. $6


UL30B. Uilleann plastic chanter reed by Bagpipes Galore! This reed is like the one at left, but has all-black plastic sleeve and no yellow thread. Length: about 2 1/2". $20 We have a few of these left. Note that the current ones have black tape instead of blue.

UL30C. The new plastic uilleann chanter reed from Bagpipes Galore! Black tape, rose-colored plastic lips. Length: 3 1/8" long. $32
Drone and regulator reeds by Roosebeck (Mid-East):
UL30B. Bass drone reed (cane): $4
UL30C. Tenor drone reed (cane): $4
UL30D. Baritone drone reed (cane): $4
UL30E. Regulator reed (plastic): $4 All three regulators take the same reed.
Uilleann Hard Case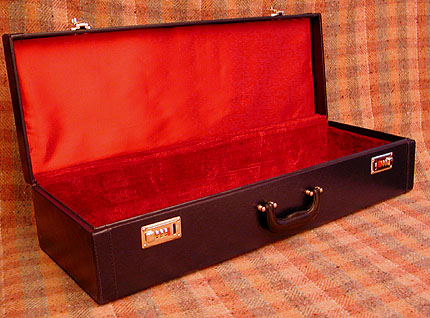 UL40. Uilleann hard case. This one is large enough to carry a full uilleann set. Black exterior, choice of red or black fabric lining. Brass closure with combination locking mechanism. Inside measurements: 27" x 9" x 6". $73
A note for players of highland bagpipes: This case also works well for anyone looking for an extra roomy case for your pipes.
Uilleann Pipe Manual
We have an uilleann manual by Spillane. This is described on the page of Music Books etc. for all Irish instruments.

Assembly Hints for Your Uilleann Pipes
Back to main Bagpipes page.
Back to the main Irish Musical Instruments page
You are on the Uilleann Bagpipes page of the web site www.harpanddragon.com .
There are over a hundred pages on this web site; click on the Back to Home Page link
below to see an outline of this entire site.
If you do not receive a reply from us within a day or so after sending in an order, or after emailing a question, please contact us again, as our reply may have been thrown in your spam bin or may have returned to us. Exceptions: weekends or when we note on our front page that we are closed for any reason.