Links to pages of bodhrans, beaters/tippers, spoons, bones,
bodhran accessories, and music books
Bodhrans by Waltons of Ireland. Sale prices!
Bodhrans by Mid-East (now EnSoul). Solid bodhrans at budget prices. Sale prices!
Bodhran carrying cases Sale!
Beaters (tippers) Sale!
Spoons and bones Sale!
Music books etc. Manuals, videos etc for the bodhran and all Irish instruments Sale!
About Bodhrans
The bodhran (pronounced bow'-rahn; it's an Irish word and they like to throw in a lot of letters you don't pronounce) is a Celtic drum. It has a light wood frame with a skin, real or synthetic, drawn tightly over it. Our bodhrans all have two wooden sticks built inside that cross at right angles; these are used by the player to hold the bodhran, and they also help keep its shape.
Bodhrans come in different sizes, and they are either tacked (the skin, also called the head, is fastened down permanently all around) or tunable.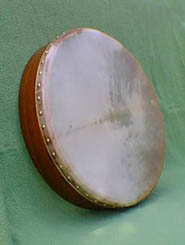 At left we show a typical tacked bodhran.
Tunable bodhrans come in two variations; some have hardware pieces on the inside,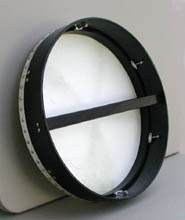 as on the bodhran shown at right, and we have one model with an outside tuning mechanism. Both kinds are tuned with a wrench.
Our bodhrans have goatskin heads, although there are bodhrans with synthetic heads.
The bodhran is played by hitting or rubbing it with wooden beaters, which come in a whole variety of styles (or you can beat it with your bare hand).
If you let your bodhran get too dry, the skin can split. Application of light leather-goods oil will help to keep the head pliable and prevent damage.
The larger the bodhran, the bigger and deeper the sound (this is a matter of physics and mathematics, and there isn't really anything to be done about it!). The dimension given for each size is the diameter of the rim.
What size you choose is up to you; the smaller ones are easier and less awkward to hold; the bigger ones give a deeper sound, as noted above. Every bodhran is a tradeoff of size versus pitch of the sound.
There are also various rim depths available. The standard rim depth is about 3 1/2 inches. The wider the rim, the larger the sound the bodhran makes. There are bodhrans with rims up to 7.5 inches; these have quite a boom.
Back to Irish Musical Instruments page

You are currently on the Bodhrans, Spoons and Bones page of the web site www.harpanddragon.com
There are about a hundred pages on this web site; click on the Home Page link
at left to see an outline of this entire site.
Notice:
The Harp and Dragon business is for sale.
We invite inquiries about buying up our inventory.
Please click here to inquire.
We will remain in business for the foreseeable future until we announce otherwise.
If you do not receive a reply from us within a day or so after sending in an order, or after emailing a question, please contact us again, as our reply may have been thrown in your spam bin or may have returned to us. Exceptions: weekends or when we note on our front page that we are closed for any reason.