The Braunwen Model Harp
by Stoney End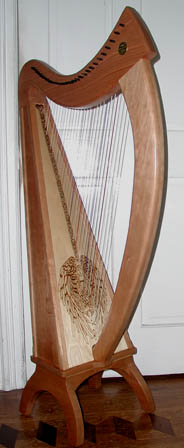 The 29-string Braunwen model is ideal for the player who wants a harp that gives a reasonable playing range, and that is also easy to carry around. This one in the photo is sitting here on the floor, and has the beautiful handmade Celtic angel design burned into the soundboard by their artist.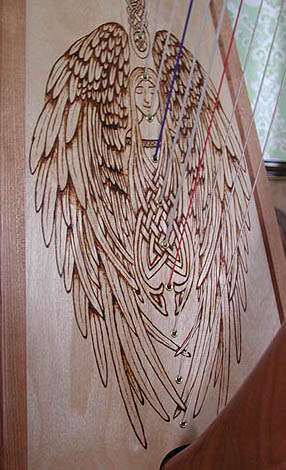 Specifications:
Wood: Cherry
Range: 4 octaves (from G 1 1/2 octaves below middle C up to high G)
Weight (including base): 20 lb
Overall height when sitting on removable base: 56 inches
Height harp only without base: 44"
High-quality Truitt levers on every string
Included:
Padded green case shown below
Green tote for carrying base
Tuning key
Full extra set of strings
Warranty: 5 years
Price of complete package: $2900
This is a close-up of the woodburned Celtic angel
on the soundboard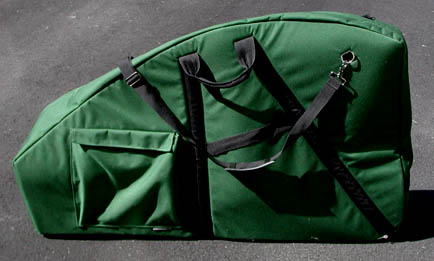 This well-made padded carrying case has handles, shoulder strap and side pocket.
Notice:
The Harp and Dragon business is for sale.
We invite inquiries about buying up our inventory.
Please click here to inquire.
We will remain in business for the foreseeable future until we announce otherwise.
The Harp and Dragon
25 Madison St, Cortland, NY 13045 USA
Secure telephone 607-756-7372
How to email us
Ordering information
How to place an order