Celtic Cross Jewelry
Distinctive symbols of faith
With the arrival of Christianity in Britain and Ireland in the sixth century, great changes took place in the Celtic religion. The monks adapted design elements from pre-Christian Celtic art to objects representing the new religion, including the distinctive Celtic crosses. These usually, although not always, had a circle around the center where the vertical and horizontal arms crossed. Our crosses include a mixture of designs taken from sources such as the ancient tall standing stone crosses, and modern designs which adapt the old Celtic designs.
Not all of our crosses are on these pages; here and there on the other pages are some crosses such as, for instance, the cross kilt pins and square cross men's buckle. There are also some jewelry designs which have crosses in them that are not obvious at first glance, especially square crosses.
All jewelry 40% off
This page: pewter and costume crosses.
Other pages of crosses: sterling crosses and gold crosses.
Please check the size of each piece carefully against a ruler before ordering. We give measurements of all jewelry pieces on this site so that you will know their size in advance; this will save disappointment, returning pieces, etc.
Filigree Celtic Cross Pendant


This filigree cross with its glittering faux stones has been very popular for a long time. A Miracle brand piece. 1 5/8" high, available in the colors listed below.
CS1A. Emerald green stones, antiqued gold (shown far left). 18" chain. $21
CS1B. Emerald stones, antiqued silver (shown center). 18" chain. $21

Enamelled Celtic Cross Pendant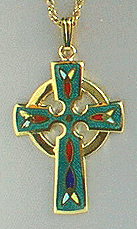 CS2: Medium cross is enamel on goldplate, made in Ireland. 1 3/8"tall on 20" goldtone chain. $34

Pewter Celtic Cross Pendants with Gemstones, Matching Stud Earrings
The crosses below, made in Wales, are made of pewter with real gemstones: sodalite, mother-of-pearl and green agate. We also have matching stud earrings below. If you are not familiar with sodalite, it can vary. Usually it's bluish-purplish (about the color of blueberries), with a somewhat swirled pattern which can have lighter patches, or it can be quite dark. If you are matching a pendant and earrings, please tell us and we'll do our best for you.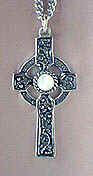 This Celtic cross pendant is just under 1 3/4" tall on choice of an 18" or 24" chain.

CS3. Mother-of-pearl $11




This small Celtic cross pendant is 1 1/8" tall on an 18" chain.
CS4A. Sodalite $10
CS4B. Mother-of-pearl $10
CS4C. Green agate $10
Gemstone Stud Earrings
to match the cross pendants above

Stud earrings to match the crosses CS4 and CS5 above, and CS10 below. The earrings are the same size as the centers of the crosses. $10 per pair. Please specify gemstone:
CS5A. Sodalite, CS5B. Mother-of-pearl, or CS5C. Green agate (1 pr left).
Costume Filigree Cross Pins or Pendants

This cross pin has filigree knotwork in the spaces between the faux stones; it would look really great on a jacket lapel. There is a ring on the back for a chain (as well as the pin) so that it can be worn as a pendant, too. We will include an 18" chain. Cross is 1 1/4" long. A Miracle brand piece.
CS7A. Green/antiqued gold with gold-colored chain. $21
CS7B. Amethyst/antiqued silver with silver-colored chain. $21
Handmade Pewter Celtic Crosses with Ceramic Insert

Sale! CS8: Ceramic and pewter cross pendant, hand made in Scotland. The ceramic piece forms a background that highlights the cross. Please note that the ceramic piece is somewhat different in color and design on every pendant. Cross is 1 1/2" long, hangs on 24" steel chain. Was $36, now $28.
Pewter St Brendan's Cross

CS9. Our St. Brendan's Cross is made of high-quality pewter by St. Justin. 1 1/8" high, not including the hanging ring. This is a smaller pewter cross than the ones below. 18" chain. This is a St. Justin piece. $18
Polished Pewter Filigree Celtic Cross with Gemstone

CS10. Polished filigree pewter cross with real gemstones. 1 1/4" high on 18" chain.
A. Sodalite (blueberry color) stone. $10
B. Mother-of-pearl stone (shown). $10
C. Green agate stone. $10
The CS5A stud earrings above match the stones in these crosses.
Clonmachnois Pewter Cross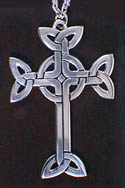 Clonmacnois cross, a design taken from a stone in Clonmacnois, Ireland. Polished pewter, 27" steel chain. This is a St. Justin piece.
Two sizes:
CS11A. Large: 2 3/4" high, $30.
CS11B. Medium: 1 7/8" high, $27.
St Petroc's Pewter Cross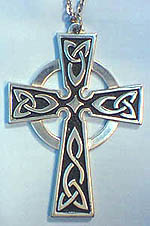 St. Petroc's cross, with a bold Celtic knot design highlighted by a black background. This is a pewter St. Justin piece.
Available in two sizes:
CS13A. St. Petroc's cross, large. Cross is 3" long on a 27" steel chain. $30
CS13B. St. Petroc's cross, medium. Cross is 2 1/8" long on a 27" steel chain. $27
Sale! The Robin Hood Celtic Cross (also called Robin of Locksley Cross)

CS14. The handsome Celtic cross at left is a simple and elegant style. It is made of polished pewter, with a real malachite gemstone at the center. (Malachite is green, and sometimes has black stripes in it, and is not shown in the photo at left.) The cross is large, 2 3/4" tall, not including the ring at the top; its steel chain is 27" long. This is a St. Justin pewter piece. Regular price $32, on sale at only $25.



Sale! Large Costume Celtic Crosses

Large reversible cross is hung on a large-link 30" chain. You get two fine crosses for the price of one with this piece! (It is a different color on the back.) The cross itself is just under 3" tall. Faux stones. Available in three choices:
CS15A (Shown at left) Striped amethyst front and jet black back, antiqued gold Was $33, now $25.
CS15B. Carnelian (front)/emerald (back)/antiqued gold Was $33, now $25.
CS15C. Turquoise (front)/amethyst (back)/antiqued silver Was $30, now $22. We have one of these left.
Faux Lapis Lazuli Celtic Cross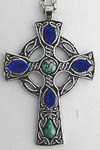 CS16. Celtic knot cross. Lapis lazuli/turquoise/antiqued silver. Faux stones. Very nice design, medium-weight 24" chain. Cross (without hanging ring) is 2 3/8" high. $19
Notice:
The Harp and Dragon business is for sale.
We invite inquiries about buying up our inventory.
Please click here to inquire.
We will remain in business for the foreseeable future until we announce otherwise.

You are currently on the Celtic Crosses page of www.harpanddragon.com .
There are over a hundred pages on this web site; click on the Home Page link
at left to see an outline of this entire site.
If you do not receive a reply from us within a day or so after sending in an order, or after emailing a question, please contact us again, as our reply may have been thrown in your spam bin or may have returned to us. Exceptions: weekends or when we note on our front page that we are closed for any reason.