Irish Jewelry
Jewelry with traditional Irish motifs that tell the world that you are Irish!
40% discount off regular price of all jewelry
The shamrock is a traditional symbol of Ireland. Although any of the clover family with three leaves can technically be called a shamrock, purists will say that only one member of this family can be called a true shamrock (legend has it that this shamrock doesn't grow anywhere else, only in Ireland). The three leaves are a symbol of the Divine Trinity: God the Father, God the Son, and God the Holy Spirit.
The claddagh (pronounced clad'-uh), a heart held by two hands and topped by a crown, is said to be a symbol of love, friendship and loyalty. Originating in the town of Claddagh in Ireland, this symbol is quite old.
In Ireland, the harp is considered to be the most Irish of all symbols.
The St. Brigit's cross on this page is a cross unique to the Irish.
Please check the size of each piece carefully against a ruler before ordering. We give measurements of all jewelry pieces on this site so that you will know their size in advance; this will save disappointment, returning pieces, etc.
Romantic Celtic Hearts and Knots in Faux Malachite
The charming Celtic knot necklace and earrings below are set with romantic heart-shaped stones.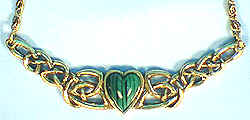 IJ8A. Heart necklace. Antiqued gold with faux malachite stone. Adjustable chain makes this necklace 20 -23" around. $23

IJ8B. Heart stud earrings to match the necklace. Antiqued gold with faux malachite stones. 1 1/2" long overall. $19
Claddagh Jewelry
There is a long history behind the claddagh design, which is a crowned heart held by a pair of hands. Originally made as a ring, the claddagh now appears in other forms of jewelry as well.
Vermeil Claddagh Ring

IJ26. Claddagh ring is made of gold-plated sterling, called vermeil. $12 each.
We have sizes: 7, 8, 9, 10, and 11.
Gold Claddagh Necklace, Drop earrings and Studs


Ten-carat claddaghs are all 1/2" across. Made in Ireland.
IJ22A. Drop earrings. $78
IJ22B. Pendant. $28 (Chain not included.)
IJ22C. Stud earrings. $44
Click on these photos to see enlarged view of the claddaghs.


IJ23. Ten-carat gold claddagh studs, 5/8" across. Made by O'Connor of Ireland. $58

IJ24. Nine-carat gold claddagh pendant hangs on a fine gold 18" chain. The claddagh circle is 1/2" across. This claddagh is nicely detailed. We got a limited quantity of these at $35.
Sterling Claddagh Pendant

IJ62. Sterling claddagh pendant, 5/8" across, with a sterling bail (hanging ring) and fine 20" sterling curb chain. $27
Cloisonne (Enameled) Claddagh Jewelry


Sale! IJ63: Red-and-green claddagh stud earrings are gold color with deep jewel green and red cloisonne colors. A Miracle brand piece. 7/8" across. Were $16, now $12.


IJ64. Cloisonne claddagh pendant in emerald and gold. A Miracle brand piece. 1 1/4" across. 18" gold-colored chain. $21
Sterling Claddagh Earrings


IJ61: Sterling claddagh studs are 5/16" in diameter; the posts and backs are also sterling. Made in Ireland. $16.

IJ62A. Sterling claddagh stud earrings, made in Ireland. These are just under 5/8" across. $24
Click on photo to see enlarged view.

IJ62B. Sterling claddagh drop earrings, made in Ireland. These are just 5/8" across. $25
Click on the photo to see enlarged view.
Enamel Goldplate Claddagh Necklace and Earrings

IJ65A: Claddagh necklace is made of green enamel on goldplate. Made in Ireland. 7/8" pendant on 18" chain. $21
IJ65B: Matching claddagh earrings are the same size as the pendant, dangling style. $26
Ceramic Claddagh Necklace and Pin
The ceramic pieces shown below are hand made in Ireland. Because they are hand colored/hand painted, they will vary somewhat in color from piece to piece.

IJ70C. Claddagh pendant on cord. About 1 3/8" across. Blue-green and blue colors. $15, sale $8.

IJ70D. Claddagh pin, about 1 3/4" cross. Blue/green and blue colors. $15, sale $8.
Bronze Claddagh Interlace Pendant and Earrings with Gemstone

IJ91A: Solid bronze claddagh earrings have a Celtic knot filigree circle and a heart-shaped green genuine gemstone (either malachite or green agate). Just under 3/4" across. $14

IJ91B. Matching pendant, same size as earrings, on 18" gold-colored chain. $9
Bronze Celtic Knot Claddagh Pendant with Gemstone



IJ93. Solid bronze claddagh pendant, real green agate heart-shaped gemstone. 3/4" across, on 18" gold-colored chain. $12 We have one of these left.

Sterling Shamrock Earrings

IJ1. These sterling earrings have open dangling shamrocks on sterling hooks. Each shamrock is 11/16" across. $11 pr.

Bronze Shamrock Earrings and Pendant with Interlace Surround

IJ92A: Bronze shamrock earrings : the design is cut out of the bronze, giving these a delicate look. Over 3/4"across. $12


IJ92B. Matching pendant, same size as earrings, on 18" gold-colored chain. $8
Celtic Knot Drop Earrings
IJ2. These Celtic knot drop earrings with emerald crystal stones in goldtone setting are really elegant! The actual earrings are just over 1" long, not counting the ring and hooks. $22
Celtic Necklace

IJ3. This pendant has an antiqued gold setting with faux malachite stones, hangs on an 18" gold-colored chain. The pendant piece is about 1 1/2" long. This is a Miracle brand piece. $10
Celtic Knot Pendant

IJ5. Gold-plated Celtic knot pendant is 3/4" long, not including the small ring on top, and hangs on a gold-colored 18" chain. $16
Triscel Pendants

IJ6. Silverplated triscel pendant has a real crystal in topaz color set in the center. 7/8" diameter, on 18" chain. $15

Stunning Celtic Necklace and Earrings with Green Stone
These are high-quality costume jewelry, faux stones.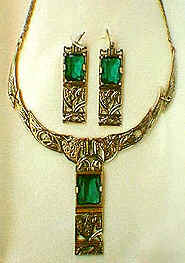 IJ9A. Necklace with emerald stone in antiqued gold setting. Measures about 19" around. Chain can be adjusted if you wish to wear necklace as a choker. $47 We have one of these left.
IJ9B. Matching emerald/gold earrings: These are surprisingly light in weight. These hang from studs; or clip style for nonpierced ear

s available. 2 1/4" long. $24
IJ9C. Same earrings with smoky topaz stones in antiqued gold. 2 1/4" long. $24 (We do not have the necklace in this color.)
IJ9D. Earrings with amethyst stones and antiqued silver. 2 1/4" long. $24 (We have only earrings, no necklace, in this color.)
Gold Shamrock Jewelry with Real Emerald Stones


Filigree 10-carat gold shamrocks have real emerald centers. Made in Ireland.
IJ20A. Pendant. Shamrock is 15/16" across. $45. (Chain not included.)
IJ20B. Stud earrings. Shamrocks are 15/16" across. $78

IJ25. Delicate cutout shamrock in 10-carat gold is set with a real emerald and hangs on a 10-carat 18" chain. The shamrock is 1/2" across. Made in Ireland. $56
St. Brigit's Sterling Cross Pendant

IJ30. St. Brigit's sterling cross, hand made in Ireland. The cross is 7/8" square plus bail (hanging ring), on
on good-quality 20" chain $29. We have one of these left.

Click on photo for enlarged view of cross.
Gold-plated Sterling Cross

IJ31. Vermeil (gold-plated silver) cross. Cross is 1 3/8" long, not including the bail at the top that the chain goes through, or the ring. Raised Celtic-knot design. The bail has a Celtic knot on it, too, for a nice touch. Hangs on a gold-colored 18" chain. Only $17.
The maker of this cross, Peter Stone, claims that this cross is made of solid sterling silver, plated with 14-carat gold. We are unable to verify this. However, silver and gold prices were much lower years ago when we bought this lot of crosses.
Green Amber Shamrock Pin
IJ40. The beautiful shamrock pin, shown at left, is made of sterling silver with real green amber stones. This looks gorgeous on a jacket lapel. We regret that the photo does not do justice to this piece. Note that the intensity of color of the amber can vary somewhat. About 3/4" across. $30
Note: We have some green amber/sterling pieces on our sterling jewelry page that could be worn with this shamrock piece, as they are made by the same company.
Crystal Shamrock Pendants


These clear crystal pendants have inset shamrocks and scalloped edges on the under side, hang on sterling 20" snake chains. The pendant is 11/16" across. They are really nice!
IJ50A. Engraved shamrock (far left). $27
IJ50B. Green-colored shamrock (immediate left). $27
More Irish jewelry on next page>>>

You are on the Irish Jewelry 1 page of the web site www.harpanddragon.com .
There are over a hundred pages on this web site; click on the Home Page link
at left to see an outline of this entire site.
Notice:
The Harp and Dragon business is for sale.
We invite inquiries about buying up our inventory.
Please click here to inquire.
We will remain in business for the foreseeable future until we announce otherwise.
If you do not receive a reply from us within a day or so after sending in an order, or after emailing a question, please contact us again, as our reply may have been thrown in your spam bin or may have returned to us. Exceptions: weekends or when we note on our front page that we are closed for any reason.