.
Kilt Pins (Kiltpins)
The kilt pin is a traditional piece in Scottish wear. Although it is widely considered that kilt pins are intended to be worn on a Scottish kilt or kilted (pleated) skirt, they can be worn in other ways. They make a fine pin for a shawl or scarf, or they can be worn on a coat lapel as a decorative piece.
40% off regular price of all kiltpins and jewelry
It is not always realized that the kilt pin does not go through both layers of a kilt, but only goes through the top layer. The kilt pin acts as a decoration and also as a weight on the top layer of the kilt.
Please check the size of each piece carefully against a ruler before ordering. We give measurements of all jewelry pieces on this site so that you will know their size in advance; this will save disappointment, returning pieces, etc.
Stone color: although purple is very popular with modern Scots, the most traditional Scottish stone is the smoky quartz or topaz. This is because the gemstones that were mined in the Cairngorm mountains of Scotland in the old days, called cairngorms, were smoky quartz (and possibly also topaz -- there is some variation of opinion on this!). These come in various shades of smoky yellow.
Solid Sterling Sword-and-Shield Kilt Pin


KP1. Solid sterling kilt pin is of the traditional sword and shield. This kilt pin is just under 3" long, with a 2" pin on the back. Elegant burgundy box, with burgundy velvet pad for the pin inside. $52
Costume Thistle Kilt Pin with Stones

This slender thistle kilt pin is especially nice for the ladies (although men could wear it, too). Frosted stones, 2 1/2" long. This is a Miracle piece. Available in three color combinations:
KP2A. Purple/green/antiqued gold. $19
KP2B. Topaz/green/antiqued silver. $19. Topaz is a traditional Scottish stone.


KP2C. (Shown). Topaz/green/antiqued gold. $19. Topaz is a traditional Scottish stone.

Pewter Sword-And-Shield Kilt Pin with Real Gemstones

Sword-and-shield kilt pin, St. Justin pewter, real gemstones. Comes in a velveteen pouch. 4 3/4" long. Available in two choices:

KP4A. Malachite stone (green with black stripes). $35
KP4B. Amethyst stone. $35
We do not have this kilt pin in the blue stone shown.
Safety-Pin Style Kilt Pins

Safety pin-style silver-colored kilt pins with a thistle and faux stone on top. Comes with extra stone, in case you lose the stone in the pin.
We have two choices:
KP5A. Topaz (orange-yellow) stone. Size: 3 7/8" overall. $11
KP5B. Amethyst stone. Size: 3 7/8" overall. $11


Plain Child's Kilt Pin
KP6. (Not shown) Plain safety-pin-style silver-colored kilt pin. 2 1/2" long. $4 We have one of these left.
Sgian-Dhu-Style Kilt Pin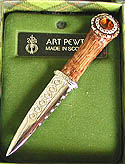 KP7. Killiecrankie kilt pin looks just like a miniature sgian dubh. 3 5/8" long, with pewter sheath, imitation staghorn handle and faux topaz stone. Presented in green tartan box. $42
Sword Design Kilt Pins

KP8. Polished pewter sword kilt pin is just over 4" long. $25


KP10. Palladium-plated kilt pins, sword style, with faux stones. 3 1/4" long. Please state color choice of stone, amethyst or topaz. $17 We have one amethyst and two topaz left.

KP11. Medieval sword kilt pin. Antiqued finish. Pewter, 3 1/2" long. $19


KP12. Sword kilt pin (immediate left). Polished silver-color finish. 3" long. $13 We have one left.
Costume Kilt Pins with Colored Stones


Costume kilt pin, faux stones. The ancient Celts would have loved these, because they liked color and show in their jewels. 3 1/2" long. A Miracle brand piece. Available in two colors.
KP13A. Amethyst stones set in antiqued silver. $28
KP13B. Green stones set in antiqued gold. $28

KP14 (far left). Costume kilt pin, faux stones. Just under 3" long. Green/antiqued gold. A Miracle brand piece. $20


Cross Kilt Pin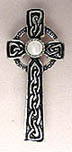 KP15. Antiqued pewter cross kilt pin is set with real mother-of-pearl stone. At just over two inches long this is a smaller kilt pin than most, and also works well on a lapel. $10

Sword and Thistle Boxed Kilt Pins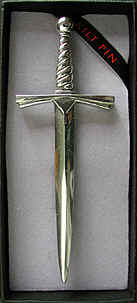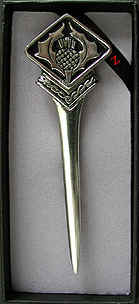 These two kilt pins are made in Scotland of polished pewter.
KP23 (far left): Sword, about 4" long. Boxed. $21
KP24 (immediate left): Thistle, about 3 3/4" long. Boxed. $21 We have one of these left.
Celtic Bird Pewter Kilt Pin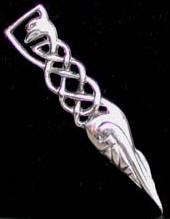 KP26. Celtic bird kilt pin. Do you see the head at the top? The bird's tail feathers form the bottom of the kilt pin, and the Celtic interlace connects the two. We think this is a beautiful traditional Celtic design. Polished pewter, 4" long. Made by Black Isle of Scotland. Boxed. $42 The bird motif in ancient Celtic designs was a form of the dove that represented the Holy Spirit.

Findon Sgian Dubh Kilt Pin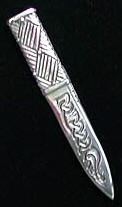 KP27. Findon sgian dubh kilt pin. 3 1/4" long. Polished pewter. Made by Black Isle of Scotland. Boxed. $35
Findon, also called Finnan, is a fishing village on the east coast of Scotland.
You are on the Kilt Pins page of the web site www.harpanddragon.com
There are over a hundred pages on this web site; click on the Back to Home Page link
to see an outline of this entire site.
Back to Home Page
Notice:
The Harp and Dragon business is for sale.
We invite inquiries about buying up our inventory.
Please click here to inquire.
We will remain in business for the foreseeable future until we announce otherwise.
If you do not receive a reply from us within a day or so after sending in an order, or after emailing a question, please contact us again, as our reply may have been thrown in your spam bin or may have returned to us. Exceptions: weekends or when we note on our front page that we are closed for any reason.