Penannular Brooches and other Cloak Pins
40% discount off regular price of all jewelry
Penannular brooches, used as cloak pins, were worn by the Celts in Britain from about the third century into early Christian times. Worn at the shoulder or breast, the brooches were as small as an inch in diameter, or quite large. Some were plain bronze, iron or copper, and some jeweled and decorated with gilt, but all had one thing in common: a long loose pin that could slide around the ring. Penannular means almost a ring. Some were pseudo-penannular, i.e., made to look like true penannulars, except that the opening, although indicated, was closed.
To use a true penannular brooch, you insert the loose pin through a fold of fabric, bring the pin through from back to front through the opening, and then turn the ring to keep it on firmly. Sounds complicated? It isn't, and besides, six centuries of Celts did it to keep their cloaks on.
These brooches eventually developed into the great Irish pieces, of which the most famous is the eighth-century Tara brooch, often shown in books of Celtic art.
The penannular brooches below are a mixture of true penannulars and modern adaptations of pseudo-penannulars; the latter have a pin on the back. It should be noted that the penannular brooch can be worn pointing in any direction.
We have added other (nonpenannular) cloak pins to this page; there are some pins on other pages, especially the miscellaneous jewelry page, that could also be worn as cloak pins.
Please check the size of each piece carefully against a ruler before ordering. We give measurements of all jewelry pieces on this site so that you will know their size in advance; this will save disappointment, returning pieces, etc.
Two Costume Small Penannulars

PB1. Antiqued gold with emerald green stones, modern pin on back. Overall length is 1 3/4". Very nice at only $23.

PB2. Antiqued gold with antiqued silver circles set into the design, modern pin on back. Overall length is nearly two inches. Very nice at only $17.
Sterling True Pennanular brooch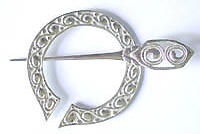 PB3. This high-quality sterling true penannular brooch has a loose pin in the traditional style. Overall pin length is 2 7/8" and outer diameter of the circle is 1 3/4". Presented in a nice hard blue box lined in black satin and velvet. Made in East Kilbride, Scotland. $84. We have one of these left.
Filigree Penannular Brooch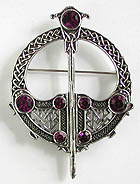 This filigree-design brooch is a nicely wrought design. It comes in two sizes; measurements give overall length of pin. Stones are faux. Miracle brand pieces. Made in Britain.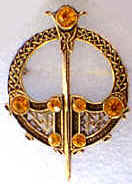 PB4A. Large size: Amethyst stones/antiqued silver (shown), 2 3/4" long. $23
PB4B. Small size: Topaz stones/antiqued gold, 2" long. $18
PB4C. Small size: Amethyst stones/antiqued silver, 2" long. $18
PB4D. Small size: Emerald stones/antiqued gold, 2" long. $18

Pewter True Pennanular Brooches


PB6A (far left): Solid pewter true penannular brooch has two animal heads, narrow noses almost meeting. 3" pin length. Made by St. Justin of Cornwall. $34

PB6B (immediate left): Solid pewter true penannular brooch, similar in style to PB6, with a different shape of animal head at the terminals. 3" pin length. Made by St. Justin of Cornwall. $34

Please note that pewter is somewhat pliable, and the above brooches can be bent so that the terminals are closer together or farther apart.

Sterling Ladies' Penannular Brooch

PB7. The sterling true penannular brooch at left is especially nice for ladies' dress wear, on a sash at the shoulder, on a fine scarf or shawl, or on a kilted skirt (instead of a long pin). The outer circle of the pin is about 1 1/2" across. Comes in a nice gift box. $52
Pewter Triscel Shield Cloak Pin

Triscel shield cloak pin. This is a strong raised design, guaranteed to show well on your cloak. Center triscel in circle is surrounded by Celtic interlace border. Made in Britain. Antiqued background in design.
Two sizes:
PB8A. Large size, 3" across. $33
PB8B. Small size, 2" across. $22
Modern Penannular Design Pin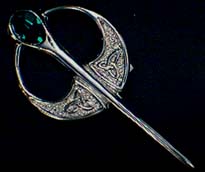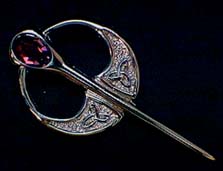 These polished pewter penannular brooches have a sleek, modern look to them, but have a traditional Celtic knot motif on the stippled background. 3 1/2" long overall; the pin on the back is about 1 3/4" long.
PB10A. Faux emerald stone. $30
PB10B. Faux amethyst stone. $30
Sterling Filigree Penannular Brooch

PB14. Filigree penannular-style brooch has a standard pin on the back. Made of solid sterling. This is a small, lightweight piece that would look really nice on a blouse or dress, as well as a jacket lapel. The circle has an outer diameter of 1 3/16". $29
Pewter Knots Cloak Pin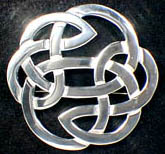 PB16. The polished pewter knots cloak pin at left is called Lugh's knot by its maker. Can't you see this piece fastened on your cloak at the shoulder? Made in Cornwall by St. Justin. Large size, with a nice long pin on the back. 2 3/4" across. $34
Antiqued Sterling Tara Design Penannular Brooch
PB27. The sterling Tara-design penannular brooch shown below is a beautiful solid antiqued silver piece with fine detail. Modern pin on back. 2" long overall (measured from side to side). Please check this measurement, because we show it oversize so that you can better see the fine Celtic-art detail. Made in Ireland. $37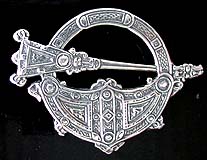 Antiqued Penannular Brooch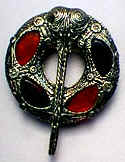 These antiqued penannular-style pins are really nice! They are also a buy, because if we bought them in now they would sell for a lot more. Faux stones. 1 34" in diameter, 2 3/8" overall. These are Miracle brand pieces.
PB28A (far left): Lapis (blue) and malachite (striped green) stones, antiqued silver setting. $21
PB28B (immediate left): Amber and brown stones, antiqued gold setting. $21
Enamelled Penannular Brooch

PB29. Enamelled penannular-style brooch in red and green - nice for Christmas. Size: 1 3/4" in diameter. $12 We have one of these left.
Notice:
The Harp and Dragon business is for sale.
We invite inquiries about buying up our inventory.
Please click here to inquire.
We will remain in business for the foreseeable future until we announce otherwise.

You are on the Penannular Brooches page of the web site www.harpanddragon.com
There are over a hundred pages on this web site; click on the Home Page link
at left to see an outline of this entire site.
If you do not receive a reply from us within a day or so after sending in an order on the order form, or after emailing a question, please contact us again, as our reply may have been thrown in your spam bin or may have returned to us. Exceptions: weekends or when we note on our front page that we are closed for any reason.