Welsh Lovespoons
In the old days in Wales, a young man would carve a fancy spoon to give to the girl that he wanted to court. (The expression "to spoon" comes from this custom.) It was important to prove to the potential father-in-law that the young man was good at working with wood, because he would have to make all his family's furniture, dishes and eating utensils. The symbols carved into the spoon's handle all had meanings; most of our lovespoons come with a tag that explains these. Hearts are for love, of course. Bells are for the hoped-for wedding. A horseshoe is for luck (in Wales, a bride and groom are always given a horseshoe on their wedding day). A wheel promised, "I will work for you." Balls in a cage could mean either the number of children hoped for, or (if married) the number of years together. And so forth; there is a long list of possible symbols.
Today lovespoons are often given as wedding and anniversary gifts; however, they are also given for birthdays, baby gifts, friendship, Christmas, etc. Valentine's day is a natural. They are considered to be folk craft items first, and, under the right circumstances, romantic items as well. The spoons on this page are all made in Wales.
The bilingual booklet on lovespoons (see bottom of page) is very informative, with great pictures.
Mini Lovespoon Wedding Favors
The giving of a small lovespoon to each of your guests as a wedding favor to thank them for coming, and to serve as a memory of the romantic custom of the lovespoon, has appeared in recent times, both in Wales and in North America. Our mini lovespoons are hand made of wood by David Court in South Wales. (Court now makes these by machine en masse, but ours are still from the hand made production.)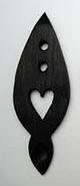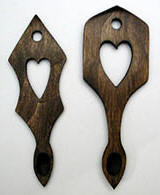 Size: about 3 5/8" to 4" long, depending on the design.
Price: $2.50 each or $2 each for 25 or more.

Far left: No. 1. We have 84 of these.
Middle: No. 2. We have 29 of these.
Immediate left: No. 3. We have 49 of these.
The count would have to be checked to be sure.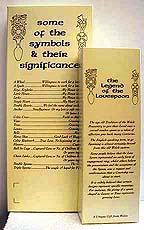 Lovespoon Gift Boxes
Both sizes of box have the same design and information; on one side is the legend of the lovespoon, and on the other side is a listing of 20 symbols and their significance. These were originally designed for lovespoons; however they can be used for any item that fits in them. Also nice for filling with candy as a party favor. We have a quantity of these.
LV80A. Large lovespoon box: 12" x 5" x 1 1/2". $2.50 each. 10 or more $2 each.
LV80B. Small lovespoon box: 9" x 3" x 1 1/2". $1.50 each. 10 or more $1 each.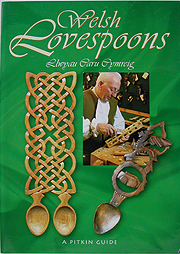 Bilingual Welsh Lovespoons Booklet
LV81. This very attractive little book is all about the long history of the Welsh lovespoon, meanings of the symbols, how the spoons are carved, the largest lovespoon in the world (you won't believe this), and more. There are nearly 50 colored photos. This entire book is bilingual, with all text in both English and Welsh. 9 1/2" x 6 3/4", 20 pages. Only $5. We have a quantity of these and will sell them in quantity of 10 or more at $4.
You are on the Lovespoons page of the web site www.harpanddragon.com .
There are over a hundred pages on this web site; click on the Back to Home Page link
to see an outline of this entire site.
Notice:
The Harp and Dragon business is for sale.
We invite inquiries about buying up our inventory.
Please click here to inquire.
We will remain in business for the foreseeable future until we announce otherwise.
If you do not receive a reply from us within a day or so after sending in an order, or after emailing a question, please contact us again, as our reply may have been thrown in your spam bin or may have returned to us. Exceptions: weekends or when we note on our front page that we are closed for any reason.