Harp Jewelry
Celtic and pedal harp pins, pendants, and earrings
40% off all our regular prices on jewelry!
Notice:
The Harp and Dragon business is for sale.
We invite inquiries about buying up our inventory.
Please click here to inquire.
We will remain in business for the foreseeable future until we announce otherwise.
The harp is historically the national instrument of the Celts, and is a common symbol among them. The Irish, for example, fly a harp on their flag, put a harp on their money, and name their beer after it. The Scots played the harp long before they abandoned it for the bagpipes. The Welsh play mostly pedal harp today; however, their historical harp is the triple-strung harp.
Please check the size of each piece carefully against a ruler before ordering. We give measurements of all jewelry pieces on this site so that you will know their size in advance; this will save disappointment, returning pieces, etc.
Rolled Gold Celtic Harp Pendant

HP42. This harp is a rolled gold piece (a sheet of gold material is rolled over base metal). It's 3/4" high, not including the bail, and hangs on an 18" gold-colored chain. Made in Ireland. $13 We have one of these left.
Harp Earrings and Necklace in Silver or Gold Color with Crystals
The gleaming, graceful, modern-design harps 2A – D shown below could be either Irish or pedal harps. Real crystals outline the harmonic curves. Although they are shown here in goldtone, they are also available in silvertone.

HP2A: Stud harp earrings, 1" high. Gold color. $18
HP2B. Same stud harp earrings in silver color. $18

HP2C: Harp pendant is the same size as the earrings, 1" high. Gold color. Please state your choice of 16" or 18" goldtone chain. $14
HP2D: Same harp pendant in silver color. 18" chain only. $14
Sterling Celtic Harp Pendant

HP5. Solid sterling harp pendant has the same Celtic design front and back; if it flips when you're wearing it, as pendants will at times, it will still show the design. This is a largish piece; you may want to check the measurement. A fairly thick piece. The harp, not including ring and bail, is 1 5/16" long, on a medium-weight 24" curb chain. $39 We have one of these left.
Celtic Harp Necklace with Sparkling Stones
The pretty harp with glittering faux stones shown below is available as either a pendant or a pin. A Miracle piece. The harp is 1 1/2" high. These are a very good buy; if we were to get them in now, the price would be much higher.


HP6A. Pendant (shown): Multicolored stones in bright silvertone setting, on 18" chain. $18
HP6B. Pin (not shown). Multicolored stones in bright or antiqued silvertone setting. Looks like the pendant at left, but there may be some variation in placement of the colored stones. $17




Sterling Filigree Celtic Harp Pin

HP7: This charming filigree harp pin in sterling is 1" long. Made in Wales. $23
Sterling Celtic Harp Earrings, Necklace and Pin
Sterling filigree harp pin, earrings and necklace. We have some in antiqued sterling and some in polished sterling because of changes by the manufacturer. That means that we have some of both at the moment, as indicated below.

HP9A: Hook earrings. The harps are somewhat smaller than the necklace HP9C below; they are just under 9/16" long, not including the sterling hooks. We currently have these in antiqued silver only. $16
Sterling Celtic Harp Pin and Pendant

HP9B: Harp pin is 1 1/8" high. Polished sterling silver. $25 We have one of these left.

HP9C: Harp necklace has a harp that is about 3/4" long, not including the wide bail, on a 20" curb sterling chain. Antiqued sterling silver only. Shown oversize. $27
Harp only without chain $20
Tiny Sterling Celtic Harp Earring Studs

HP10: Sterling Celtic harp studs are tiny things, just 3/16" high. We show these enlarged below to show the detail better. Made in Ireland. $8 pr.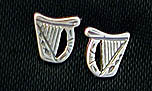 Green Enamel Harps

HP11A: Pin, 1 1/2" long, with long vertical pin on back. Choice of gold plate (shown in photo) or silver plate harmonic curve and strings. This pin has emerald green enamel along the front pillar and soundbox, and a Celtic twist design along the edge of the soundbox. $21


HP11B: Pendant harp is 3/4" long (not including the ring on top), on 18" chain which is same color as the harp. Available in silver plate only (our apologies, we no longer have the gold plate that is shown in the photo). $16


HP11C: Harp earrings dangle from studs. The harps are the same size as the pendant above, 3/4". Silver plate only (our apologies, we no longer have the gold plate that is shown in the photo). $23
Silverplate and Goldplate Pedal Harp Pins with Crystals

The crystal pedal harp pins at left are costume pieces with real crystals set in the harmonic curve and along the side of the soundbox. Just under 1 1/2" high. Please state choice of color:
HP14A: Gilt color $16
HP14B: Silver color $16
Tiny Gold and Sterling Stud Pedal Harp Earrings
These are made by OConnor of Ireland, and come in a nice green box.

HP16A: 14-carat gold pedal harp stud earrings are just over 1/4" high; backs and posts are also 14-carat gold. Made in Ireland. $54
HP16B: Same pedal harp studs in sterling silver, made in Ireland. $28
Welsh Triple Harp Earrings and Pendant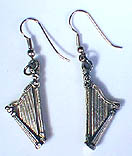 HP17A. Welsh triple harp earrings. These finely detailed harps are made of antiqued pewter-look costume metal. The harps themselves, exclusive of hooks and rings, are 1" long. $14.
HP17B. Triple harp charm. Same harp, antiqued silver color. $6 each.
HP17C. Triple harp pendant. Same harp, antiqued silver color, hangs on 18" sterling chain. $10
Wood Pedal Harp Pendant


HP21. This harp pendant was hand carved in Wales for us from yew wood (historically British harps were often made of this wood). Size of actual harp: about 1 1/8", not including curl on top. Choice of 18" silver-colored or gold-colored chain. $10

Ox Horn Celtic Harp Pin

HP27. Ox-horn harp pin was hand carved specifically for us in Scotland. Each is different because the horn color varies in shades of brown, white and grey. Unfortunately we can't get any more of these, and we will have them only as long as current stocks last. 1 1/2" high. Price: $15
Note
There are more harp jewelry pieces on our pages of Irish jewelry. These pieces are at the end of our second page of Irish jewelry. HP3, HP4, HP23, HP28, HP29, HP30, HP31, HP32.
Treble Clef Pin

HP33. Antiqued sterling and marcasite treble clef pin is just under 1 1/8" high. $17

You are on the Harp Jewelry page of the web site www.harpanddragon.com .
There are over a hundred pages on this web site; click on the Home Page link
at left to see an outline of this entire site.
If you do not receive a reply from us within a day or so after sending in an order, or after emailing a question, please contact us again, as our reply may have been thrown in your spam bin or may have returned to us. Exceptions: weekends or when we note on our front page that we are closed for any reason.