Irish Flags and other items
Irish tricolor and Ulster flags, hand puppets, posters, paper doll books, stencils and other beautiful items to remind you of the Emerald Isle
See the Celtic Gifts and Crafts page for more items.
We have a lot of Celtic jewelry on other pages of this site. Shamrocks, crosses, Celtic knots, penannulars, barrettes, bracelets, buckles, etc. at all prices.
Tricolor and Ulster Irish Flags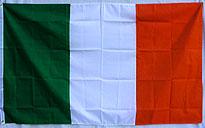 IG12A. Polyester Tricolor flag (Republic of Ireland): Green, white, orange. 3' x 5', screened design, with tape and grommets along one side. $15
IG12B. Polyester Tricolor flag (Republic of Ireland): Green, white, orange. 2' x 3', screened design, with tape and grommets along one side. $10
IG12C. Flag for waving: Green, white, orange. 6" x 9" on a stick. Fabric. $2 We have just a few of these left.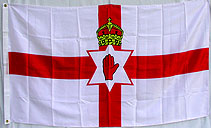 IG13A. Ulster flag (N. Ireland). Also called "The Red Hand." This is a white flag with a wide red cross that goes from top to bottom and from side to side; there is a large gold crown and a large white star with a red hand inside on this cross. 3' x 5', screened design, with tape and grommets along one side. $15
IG13B. Ulster flag (N. Ireland). Also called "The Red Hand." This is a white flag with a wide red cross that goes from top to bottom and from side to side; there is a large gold crown and a large white star with a red hand inside on this cross. 2' x 3', screened design, with tape and grommets along one side. $10
Decorative Posters of Ireland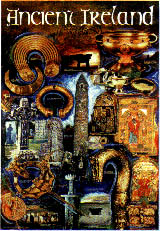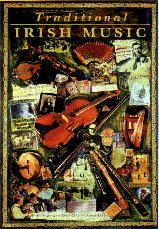 Two beautiful, colorful posters, the nicest we've ever seen. These will be a real centerpiece in your Irish-decorated family room or bar. 33" x 21", printed on heavy-duty paper; ship nicely in a cardboard tube.
IG2A. Ancient Ireland. A collage of ancient Celtic jewelry including the Tara brooch and Gleninsheen gold collar, scenes of Newgrange, the Portal Tomb and Drombeg Stone Circle, pages from the Book of Kells, large standing stone crosses, the Shrine of St. Patrick's Bell, the Ardagh Chalice and more. $12
IG2B. Traditional Irish music. A collage of traditional musical instruments of Ireland, plus musicians, dancers, bits of old music etc., very well done. Deep emerald green colors (the photo didn't bring this color out right). $12
Mini Toy Bodhran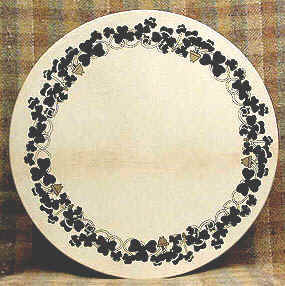 WB4. Mini bodhran in Celtic shamrock design, 8" diameter.This is a pretty little bodhran, ideal to hang on your wall as a musical decoration, or as a toy for a small child. Tacked, nicely made, with knob beater. Packaged. $25 We have one of these left.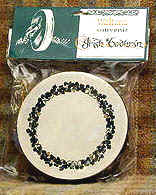 At left, mini bodhran shown in packaging.
Note: The Irish brass items shown below are no longer available from the manufacturer. When current stocks are gone, we cannot get more.
Brass Claddagh Letter Rack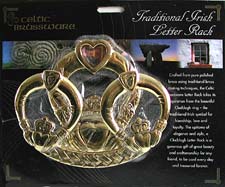 IG7A. Also could be used for holding table napkins. This is a 3-D item: there is a large cutout claddagh at the back, and two smaller cutout ones in front, with about an inch of space between the front and back for letters or whatever. We show it in its attractive package with scenes of Ireland on it. Made in Ireland. 5" wide x 4 1/4" high. $21
Brass Claddagh Corkscrew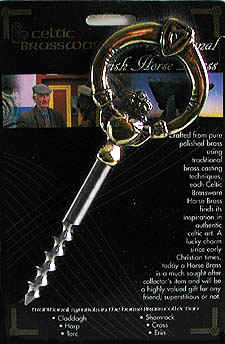 IG7C.This is a good, solid brass corkscrew with a nice claddagh handle. We show it in its attractive package with scenes of Ireland on it. Made in Ireland. 6" long overall. $17
Claddagh Horse Brass or Paperweight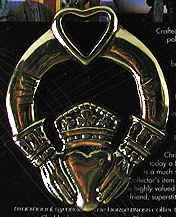 IG7D.This is a nice brass item to hang on the wall, use as a paperweight or even hang on a horse for show. 3 5/8" high. Comes nicely packaged on a card with scenes of Ireland and the information that a horse brass has been considered a lucky charm since early Christian times. Made in Ireland. $10 We have one of these left.
Shamrock Bookmark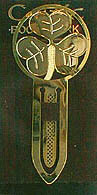 IG8. Shamrock bookmark: Brass, 3" long. This makes a nice small gift, especially for book lovers. $3 each.
Shamrock Tie

IG9. The lined polyester tie at left is brown, sprinkled with woven green shamrocks and stripes. $14. To see a larger image, click on the tie.
Irish Parking Sign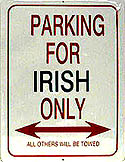 IG10. Parking sign is made of painted aluminum with red and green lettering. 12" h x 9" w. A great gag gift - and also good for claiming your personal parking spot! $8 each.
Irish Hand Puppets
These charming hand puppets are designed and lovingly made by hand by Toni Hall. The puppets are made of felt, with various trims. They may vary slightly from the ones shown, as these are one-of-a-kind creations. Overall height is about 10", depending on whether there is a hat, hair style, etc.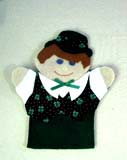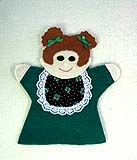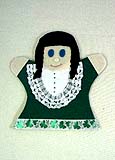 IG14A. Irish boy $8
IG14B. Irish girl (we show two variations of her). $8
Irish Plastic Stencils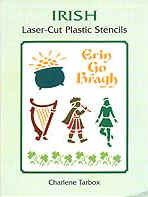 IG15. Irish Laser-Cut Plastic Stencils by Charlene Tarbox. Twelve traditional designs: two different borders of shamrocks, leprechaun, pot of gold, harp, Celtic cross, dancing girl, boy piper, bishop, claddagh, "Erin Go Bragh," and "Happy St. Patrick's Day." These are ideal for walls, floors, furniture, fabrics and other flat surfaces. Three plastic sheets in 8 1/4" x 11" folder. $8.
Irish Songs and Dances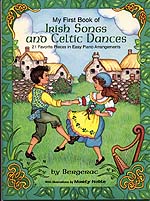 IG16A. My First Book of Irish Songs and Celtic Dances: 21 Favorite Pieces in Easy Piano Arrangements by Bergerac, with illustrations by Marty Noble. An attractive book, 8 1/2 x 11" format. Lyrics are included for most pieces. Danny Boy, My Wild Irish Rose, Sweet Rosie O'Grady, The Irish Washerwoman, Who Threw the Overalls in Mistress Murphy's Chowder? Native Swords, Too-ra-Loo-Ra-Loo-Ral, Come Back to Erin, The Pipers of Feagh MacHugh, When Irish Eyes Are Smiling, The Wearing of the Green, The Kerry Dance, Molly Malone, Celtic Drums and Pipes, Maid Colleen, The Rose of Tralee, The Mulligan Band, The Minstrel Boy, Rulla Rulla, When Johnny Comes Marching Home, Drill Ye Tarriers Drill! Pub. Dover. Only $5
Irish Girl and Boy Paper Dolls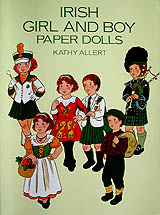 IG16. Irish Girl and Boy Paper Dolls by Kathy Allert. Danny and Caitlin have authentic wardrobes including the attire of an Irish regimental bagpiper, a St. Patrick's Day Parade majorette, a Celtic princess and Irish monk, a Celtic warrior, a professional foot soldier in Gaelic Ireland, a medieval entertainer, a Connemara woman with a basket, and more, 32 colorful costumes in all, reflecting Ireland's culture and history. $4
Dance Costume Iron-On Transfer Patterns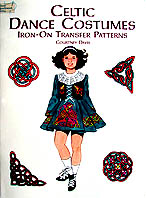 IG16D. Celtic Dance Costumes Iron-On Transfer Patterns by Courtney Davis. Wreaths, borders, corners, centerpieces and frames for embroidery, applique or fabric painting. Over 90 transfers of intricate interlacing designs shaped to fit on bodice, jacket, vest fronts or backs, lapels, cuffs and skirts. Can be used on T-shirts or other garments as well as dance costumes. $5
Celtic Design Books
We keep a large selection of Celtic design books, largely by Dover Publications. These include Celtic knot designs, animals, borders etc. Also there are books of iron-on designs, stencils, cross-stitch, and alphabets and more.
Books of Irish Interest
We have a few miscellaneous books as listed below:
The High Crosses of Ireland by J. Romilly Allen. An informative book about the meaning of the carvings on the large stone crosses, and the crosses of the early manuscripts. Facsimile reprint material first published in 1887 as part of Early Christian Symbolism in Great Britain and Ireland Before the Thirteenth Century. Many blk/wt drawings. Pub. Llanerch 1992. 244pp. Sale! Was $15.00, now $12.
The King of Ireland's Son by Padraic Colum. Seven Irish tales. Unabridged Dover republication of original Holt 1916 edition. 316pp. $9
Irish Witchcraft and Demonology by St. John D. Seymour. A classic study of the accounts of accused men and women, their familiars and spellcraft, and associated demons and devils. Published Lethe Press 2002. 256 pp.$16.
Kaylee's Choice by Rod Vick. Fictional story of girl of Irish descent who chooses to be an Irish dancer rather than a soccer star. Hard cover, 155 pp. Laikituk Creek Publishing 2006.
The Islandman by Tomas O Crohan. A first-person account of his life written by a man who lived on Blasket Island off the coast of Ireland. Translated from the original Gaelic and published first in English in 1937. This book is the Oxford paperback edition published in 1978. 245 pp. $7. Used.
Irish Wedding Songbook
IG18. The Wedding Songbook. Four popular pieces for Irish weddings: The Irish Wedding Song, Ave Maria (Bach/Gounod), Ave Maria (Schubert), and Panis Angelicus. Music and lyrics. $8
Shamrock Lapel Pin

LP20: Enamelled cutout shamrock lapel pin. Size: 9/16" across. $4
Other enamelled lapel pins: these are small, 1/2" to 1", more or less, depending on shape, with spring clip piece on back, deep colors. Irish flags, Irish dancing girl, Irish harp, Celtic cross, others. $4 each.
Shamrock Cross-Stitch Kit

IG20. Counted shamrock cross-stitch kit: contains everything necessary to make a very nice greeting card gift, or you could frame it as a miniature. Cream linen-look card with circular cutout for your cross-stitch piece, fabric square, embroidery thread, full instructions including chart, and envelope for mailing. Card window is 2 3/4" across; overall card size is 4 1/2" x 3 5/8". $6. We have a couple of these left.
Shamrock Pin
IJ84. The enamelled shamrock pin at left is deep emerald green with gold-colored edging. Size: 2" overall. $11
Sale! Irish Harp Tie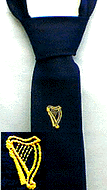 IJ85. Lined polyester tie, made in Ireland, with an embroidered harp. Navy blue. Max width: Just under 3". Note: these ties are shorter than the standard men's tie in the U.S. $10. Selling off at $7.
Beginner's Irish Book
Irish is Fun-Tastic! by Dr. Sean O Riain. A cartoon phrasebook, following the beginners' Irish is Fun! book. Small wide format, 110pp, pub. Y Lolfa. $10 We have one copy left.
Song and Story Cassette
IG21. Cassette. Pull Up to the Fire: Song and Story from the Irish Hearth. John Gleeson and Geraint Wilkes with Bridget's Fire and Sheila Larken (keyboard and vocals) Maria Terres (fiddle), and Geraldine Elliott (keyboards and harp). Kerry Dances, Hares, I'll Take You Home Again Kathleen, The Cliffs of Moher, Carrickfergus, Star of the County Down, Galway Bay, Rose of Tralee, Brian O'Brien, The Sally Gardens, Macushla, Garden Where the Praties Grow. We have one of these left and are selling it off at only $7.
Notice:
The Harp and Dragon business is for sale.
We invite inquiries about buying up our inventory.
Please click here to inquire.
We will remain in business for the foreseeable future until we announce otherwise.
Other Areas of This Web Site
Harps Bagpipes Irish Musical Instruments Celtic Jewelry Scottish Crafts Welsh Pages Books
You are on the Irish Gifts page of the web site www.harpanddragon.com.
There are over a hundred pages on this web site; click on the Back to Home Page link
to see an outline of this entire site.
If you do not receive a reply from us within a day or so after sending in an order, or after emailing a question, please contact us again, as our reply may have been thrown in your spam bin or may have returned to us. Exceptions: weekends or when we note on our front page that we are closed for any reason.