Scottish Gifts and Crafts and more
Items with a traditional Scottish flair!
For thistle jewelry, see the pages of Scottish jewelry and kilt pins.
Click here for the sgian dubh (highland wear knife)
Click here for our period sporrans.
The Scottish Quaich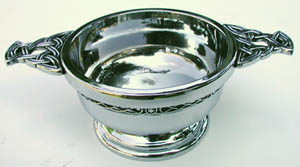 SG1. The quaich (pronouned quake) is a two-handled cup or bowl with a very long Scottish history. Traditionally it was used for drinking a welcoming or parting dram; these days it is more often given as a wedding, baby, birthday or anniversary gift, or as a trophy. (The word quaich is from the Gaelic cuach.) Our heavy piece in gleaming silver plate has a Celtic design on the two handles, and a Celtic band design around the bowl. Measurements: bowl diameter at rim 3", 5 1/2" overall including the handles, height 1 7/8" including base. Weight:7.3 oz. Boxed. We think that it is a very good buy at only $21
Scottish Flags: Rampant Lion and St. Andrews Cross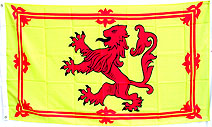 SG3A. Rampant Lion (screened design). Red lion on yellow background. Polyester fabric, with tape and grommets, 2' x 3'. $10. We regret that we do not have the 3' x 5' size.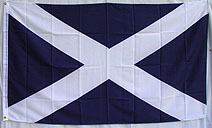 SG3C. St. Andrews Cross (screened design). Dark blue with white cross (corner to corner). Polyester fabric, with tape and grommets, 3' x 5'. $15

SG3D. St. Andrews Cross (screened design). Dark blue with white cross (corner to corner). Polyester fabric, with tape and grommets, 2' x 3'. $10
Sale! Enameled Thistle Bottle Stopper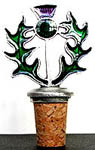 SG4. Thistle-handled cork bottle stopper has green and purple enamel jewel colors set in pewter. Size: 3 1/8" high overall including cork. Boxed for gift presentation (see below); this is a nice little quality stocking stuffer. Made in Britain. Was $18, now $12.

Sale! Silk Mozart-Motif Tie for the Musician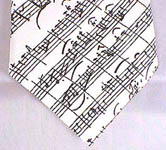 SG5A. The lined pure silk tie at left has a Mozart manuscript reproduction on it (we know it's Mozart, because his signature appears frequently in the fabric). It's made in Scotland, which is why we show it here. If you want a closer look at it, please click on the photo, which is a thumbnail. Was $35, now $26.
Sale! Silk Mozart-Motif Cummerbund for the Musician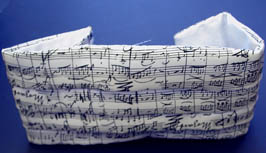 SG5B.We also have a matching cummerbund in the same white silk with Mozart design; it has an adjustable elastic back. (Who says that only men can wear these?) Was $45, now $34.
Scottish Hand Puppets


The charming laddie and lassie hand puppets at left are designed and hand made for us here in Cortland by a friend of ours, Toni Hall. The basic puppet is made of felt, with fabric costume pieces sewn onto the front. Tartans can vary and individual puppets can vary in detail. Size is 9 1/2-10 inches high, 9" across at widest point. Please specify whether you want the laddie (far left) or the lassie (near left) or both!
SG6A. Laddie $9 SG6B. Lassie $9
Scottish Children's Storybook and CD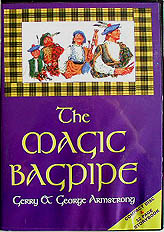 SG7. The Magic Bagpipe: A wonderful child's story about young Donald MacCrimmon who badly wants to play the bagpipes, and who has some magical adventures along the way. Told by Sheila Donald, storyteller. Bagpiping on the CD is by Pipe Major Gavin Stoddart, and harp music by Heather Yule. The story is wound around the origins of bagpipe playing on the Isle of Skye. The CD includes inspiring Scottish tunes never previously released, including a complete performance of "The MacLeods Salute." The 32-page book is beautifully illustrated. Produced in Scotland. Boxed set $22
Scottish Thistle and Scottie Rubber Stamps

SG9A. Thistle rubber stamp. The actual stamped thistle design is about 7/8" high. $6

SG9B. Scottie dog has a tartan bow around his neck. We think he's really cute. Stamp
is 1 1/4" across. $7
See our other rubber stamps by clicking on this link: Celtic cross, harp, Celtic knot, Celtic heart, Ex Libris, musical instruments collage.
Scottish Lapel Pins
We have enamel lapel pins: Thistle, Scottish Lion flag, St. Andrews flag, Celtic cross, harp, etc.
Notice:
The Harp and Dragon business is for sale.
We invite inquiries about buying up our inventory.
Please click here to inquire.
We will remain in business for the foreseeable future until we announce otherwise.
Other Areas of This Web Site
Harps Bagpipes Irish Musical Instruments Celtic Jewelry Irish Crafts Welsh Pages Books
You are on the page of Scottish Gifts and Crafts on the web site www.harpanddragon.com .
There are over a hundred pages on this web site; click on the Back to Home Page link
to see an outline of this entire site.
Back to Home Page
If you do not receive a reply from us within a day or so after sending in an order, or after emailing a question, please contact us again, as our reply may have been thrown in your spam bin or may have returned to us. Exceptions: weekends or when we note on our front page that we are closed for any reason.